FIR Against Yogi Adityanath – Yogi Aimed at Samajwadi Party Government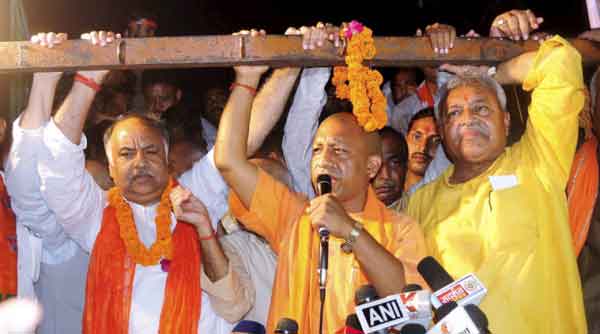 BJP MP Yogi Adityanath defied a ban on his election meeting in Lucknow
The FIR has been lodged by election commission and police has registered an FIR against Yogi as well as the other BJP leaders and members who joined this controversial rally.
A district administration official said that "An FIR has been lodged against BJP candidate from Lucknow (east) seat- Ashutosh Tandon Gopalji and others under various sections of the IPC at Ghazipur, Lucknow Police Station".
Election Commission sought a CD
The Election Commission taking defying a ban seriously and sought a recorded CD from administration. Note that entire event was videographed by the administration, the leaders other than Adityanath in the meeting are BJP MPs Jagdambika Pal, Lallu Singh and Gopalji. Note here, the FIR has been lodged against who are visible in this video.
On the other hand, Adityanat lashed out at Uttar Pradesh Samajwadi Party (SP) government,  Yogi said that democracy is at risk in the province and people should come forward to save it.
Yogi  Aimed  at Samajwadi party government.
Yogi said, democracy is at risk in Uttar Pradesh, Since beginning of loksabha election campaign the UP administration is targeting the BJP rallies and trying to ruin BJP election campaign. He added "Earlier Thakurdwara, Lakhimpur Kheri, Mainpuri meeting were stopped and spoiled by SP government and now again SP government is trying to banned our meeting program in Lucknow.
He also said "SP government is continuously trying to crush the democracy in UP.  To save Democracy in the state of Uttar Pradesh people must throw out the Samajwadi government from the system. Voting in elections will determine the future of this government."
Yogi said, Although the victory of BJP in bye-elections will not have much impact on central government and the state government but this victory will start the countdown of Samajwadi Party.
Meanwhile, BJP State president Laxmikant Vajpayee said "the administration is tring to stop Yogi's rallies intently, complaint will be lodged  to election commission regarding the same.