Cricket World Cup 2015 – India vs Ireland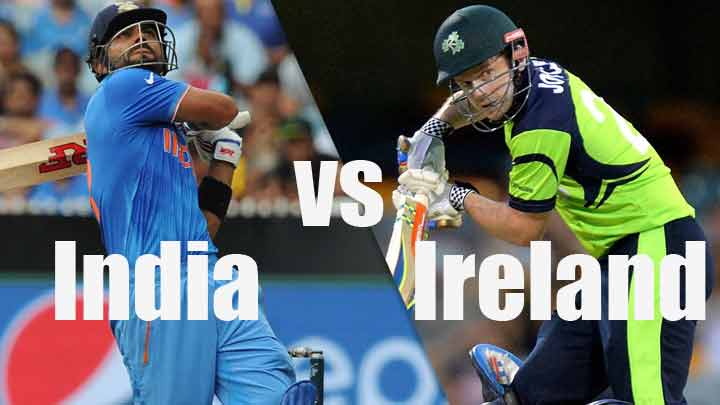 Hemlton, New Zealand, 10th March 2015,  34th Match of ICC World Cup 2015 India vs Ireland.
India has won the match against Ireland and this is a contentious 5th victory of India under captaincy of Mahendra Singh Dhoni. Ireland won the toss and decided to bat first, Ireland scored 259 Runs target to Indian cricket team. team Ireland was bowled out by Indian Cricket team in 36.5 overs.
The initial start of Ireland was good against fast bowlers of India. With the help of William Porterfield, Neil O'brien and a close to haldf century Paul Stirling scored 259 runs in the Ireland vs India match. the Bowlers on Indian cricket team has performed consistently better in this match as well. Mohammad Shami took 3 Wickets, Ravichandran Ashwin took 2 Wickets and on the other hand Umesh Yadav, Mohit Sharma, Ravindra Jadeja and Suresh Raina took 1 -1 Wicket of Ireland Cricket team.
Indian cricket team easily chased the score of 259. Rohit Sharma and Shikhar Dhawan partnership for 174 runs for in 23.2 overs for the first wicket. Rohit Sharma unfortunately again faced the misfortune and got bowled out on 64 runs. Rohit facced 66 balls and scored 64 runs with 3 fours and 3 sixes. After this Shikhar Dhawan caught out after hitting his 8th century in his one day international cricket. he made 100 runs with 11 fours and 5 sixes in  85 balls.
After Shikhar Dhawan, Virat Kohli and Ajinkya Rahane maintained the momentum of runs and won the match in 36.5 overs. Virat Kohli scored 44 runs with 4 fours and 1 six in 42 balls, on the other hand Ajinkya Rahane smashed 33 runs with 6 fours in 28 balls.
Stuart Thompson took both the wickets of India in the match. for more watch cricket live at – www.cricketworldcuplive.co.in