Cricket World Cup : India vs Bangladesh Cricket Match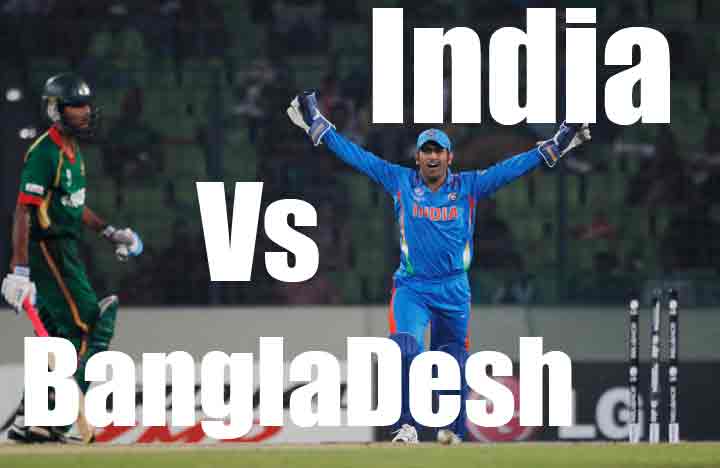 India has won 7 out of 7 Lead matches in ICC World Cup tournament 2015
Melbourne. The team India made ​​it to semi-final of World Cup 2015. In the 3 quarter-final Indian cricket team thrashed Bangladesh by 109 runs and mark it's position in the final four.
Indian team has given target of 303 runs to Bangladesh but Bangladesh was all out at 193 runs. Umesh Yadav took most of the wickets in the match.
Earlier, Rohit Sharma (137) and Suresh Raina (65) played a strong innings for and helped India to score 302 by losing six wickets in the india vs bangladesh match.
ScoreCard India Batting
Indian Batting
Runs
Batsman
4s
6s
Strick Rate
Rohit Sharma – Bowled by Taskin Ahmed
137
126
14
3
108.73
Shikhar Dhawan- Stumped by Mushfiqur Rahim ball by Shakib Al Hasan
30
50
3
0
60
Virat Kohli Catch Mushfiqur Rahim ball by Rubel Hossain
3
8
0
0
37.5
Ajinkya Rahane Catch Shakib Al Hasan ball by Taskin Ahmed
19
37
1
0
51.35
Suresh Raina catch Mushfiqur Rahim ball by Mashrafe Mortaza
65
57
7
1
114.04
MS Dhoni Caught by Nasir Hossain ball by Taskin Ahmed
6
11
0
0
54.55
Ravindra Jadeja (not out)
23
10
4
0
230
Ravichandran Ashwin (not out)
3
3
0
0
100
Mohammed Shami
Mohit Sharma
Umesh Yadav
Extras (b – 1, w – 8, no – 0, lb – 1, penalty – 0)
10
TOTAL
193 (4.29 RUNS PER OVER)
FALL OF WICKETS
1-33 (Tamim Iqbal, 6.3 ov), 2-33 (Imrul Kayes, 6.4 ov), 3-73 (Mahmudullah, 17 ov), 4-90 (Soumya Sarkar, 20.4 ov), 5-104 (Shakib Al Hasan, 28.2 ov), 6-139 (Mushfiqur Rahim, 35.1 ov), 7-189 (Nasir Hossain, 43 ov), 8-192 (Mashrafe Mortaza, 44 ov), 9-193 (Rubel Hossain, 44.4 ov), 10-193 (Sabbir Rahman, 45 ov)
| INDIAN BOWLERS | Overs | Maiden | Runs | WKT | Wide | Noball | Economy |
| --- | --- | --- | --- | --- | --- | --- | --- |
| Umesh Yadav | 9 | 1 | 31 | 4 | 1 | 0 | 3.44 |
| Mohammed Shami | 8 | 1 | 37 | 2 | 4 | 0 | 4.63 |
| Mohit Sharma | 7 | 0 | 36 | 1 | 1 | 0 | 5.14 |
| Ravichandran Ashwin | 10 | 1 | 30 | 0 | 1 | 0 | 3 |
| Suresh Raina | 3 | 1 | 15 | 0 | 0 | 0 | 5 |
| Ravindra Jadeja | 8 | 0 | 42 | 2 | 1 | 0 | 5.25 |