Live Cricket Match Streaming: 4th Match India vs Australia Score 7 ODI Series Ranchi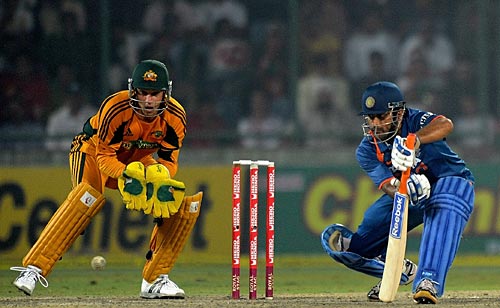 Update 6:17 PM: India Vs Australia Match Paused for 30 Minutes
Update : India Vs Australia Match 296 target given to Team India
India vs Australia 4th Match is being played in JSCA International stadium complex, Ranchi. Australia has given target of 296 runs to win the match. However in-between drizzling forced to stopped the match for 20 min.
Team India's captain MS Dhoni won the toss and called Kangaroos to bat first. In today's match team India is ready to face the challenge and decided to replace Ishant Sharma with Mohammad Shami and Jaidev Unadkat with Bhuvneshwar Kumar.
Mohammed Shami's first game in this series given a triple bang to Kangaroos by now.
After the spectacular partnership of George Bailey and Glenn Maxwell's, India was able to comeback Team India took three wickets in three overs.
in 40 th over Maxwell was Graciously Moving towards century but Vinay kumar made ​​him victim. Maxwell scored 92 runs from 76 balls.
39th over Ravindra jadeja took the wicket of Birthday boy Brad Haddin, He scored only three runs on his his 100th ODI.
38th over India's Vinay Kumar broke the partnership of Bailey and Maxwell who were becoming a headache for indian team. Australian captain Bailey scored 98 but he was hunt down by Vinay and caught by  Rohit Sharma on Deep Midwicket.
20th over George Bailey gained second life on vinay kumar's bowl. R Ashwin dropped the catch on Midwicket and earlier Virat Kohli missed the catch when Geroge was on zero.
15th over, R Ashwin picked Adam Voges wicket the one who scored high in Mohali ODI
Before that Mohammad Shami blows Watson showed the way to the pavilion. Watson on 14 runs was bowled by Shami.
Before rain Shami picked Aaron Finch and Phil Hughes wicket. Finch was bowled on individual score of 5 in first over of Shami. Later in 6th over Dhoni caught Huges.
Australia vs India Series Status:
Australia is still leading the seven-match ODI series by 2-1. Australia won the first match played in Pune, in Jaipur India won the 2nd match. But in Mohali Team india lost the winning match due to poor performance of Indian bowlers.
Live Score India vs Australia 7 ODI Series Mohali
Online Live India vs Australia Cricket Match Streaming
Please wait for streaming