Pakistan Vs West Indies T20 World Cup Match: Watch Live Score and Highlights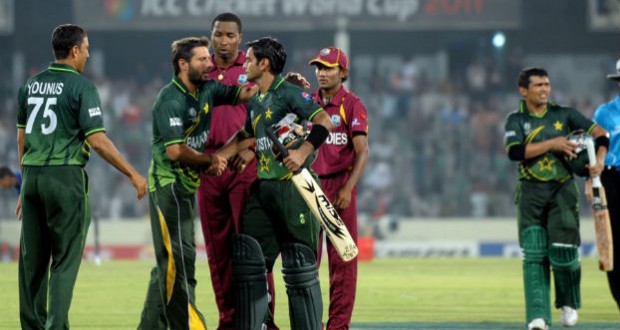 Tuesday 1 April 2014, at Sher-e-Bangla stadium Bangladesh, it was a 'do or die' situation for the current Twenty20 champions. Today's match was to move ahead in the semifinals. After beating Pakistan West Indies the Current T20 World Cup champion has made their way to the semifinals of T20 World Cup 2014. Note that, It was the first encounter between these two teams in T20 World Cup in Group 2. India has already made his way to the semifinals in group 2. In semifinals India will face South Africa and Sri Lanka will face The current champion West Indies.
Pakistan Vs West Indies T20 World Cup Highlights
West Indies won the toss and decided to bat first, The Caribbean team got a poor start but they managed to score 166 Run by losing six wickets in 20 overs. Lendl Simmons scored 31, Marlon Samuels 20 runs, Devon Smith 8 runs, Chris Gayle 5 Runs and Dinesh Ramdin was able to score only 5 runs
On the other hand Pakistan was only able to make 82 runs in 17.5 overs. Ahmed Shehzad and Kamran Akmal scored (0) Umar Akmal 1 Run and Shoaib Malik scored 2 runs, there were few players who were able to score some runs, Mohammad Hafeez scored 19 runs, Shoaib Maqsood 18 runs, Shahid Afridi 18 Runs and Sohail Tanvir 14 runs. 
West Indies bowlers were  Samuel Badri (10-3), Sunil Narain (16-3), Krismar Santoki (9-2) and Andre Russell (15-2) has done the awesome bowling and was forced Pakistan to kneel down in front of the West Indies. 
Man of the match:
Man Of the match was given to Caribbean team's Dwayne Bravo who scored 46 and did partnership with Darren Sammy 42 against Pakistan in t20 World cup 
Pakistan Vs West Indies live Score
Watch West Indies Vs Pakistan Live Online