A Visit to Luxury Rajasthan and Ranthambore National Park while on Golden Triangle Trip to India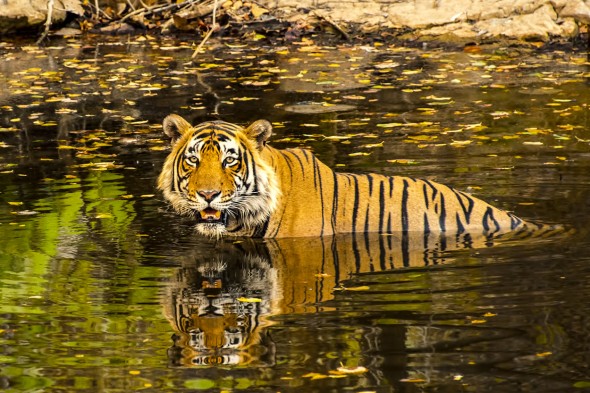 To see an animal in its natural habitat is a privilege. To see a Bengal Tiger is almost a mystical experience, Yet with only about 3,000 of these magnificent creatures left in the wild, the likelihood of seeing one outside a zoo lessens with each passing day. To appreciate them in their natural habitat, we travel to Ranthambore National Park in Rajasthan, India, home to few of the remaining tigers.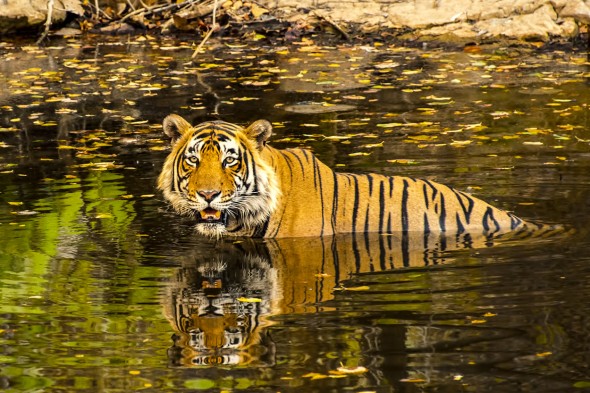 While on India's famous golden triangle trip Remnants of ancient Mughal structures dot the 200-square-mile park between Agra and Jaipur, once the royal hunting ground of Maharajahs. Following India's independence, the area was set aside as a wildlife sanctuary and has been the focus of tiger preservation since the 1970s. Even though it can be brutal for the rest of us, one of the best times to view tigers is during India's summer (April to June). Temperatures top 100 degrees F. nearly every day, and the park is seared dry by the relentless sun. As water becomes scarce, tigers tend to stay somewhere near one of the few remaining waterholes. Your chances of seeing one, however, even in the park, are largely due to the luck and the skill of your tracker guide. Eight trails criss-cross the portion of the park that is open to visitors. To minimize the stress on the wildlife, strict controls limit the number of vehicles and visitors allowed to enter on any given day. To ensure equitable chances of seeing the animals, a lottery system allocates routes with only eight vehicles permitted on each trail during the early morning and later afternoon time slots. We spend four days exploring the park, under the watchful eye of the langur monkeys (many with babies clinging tightly to their bellies) sitting on the ramparts of Fort Ranthambore. This ruined fort, which is one of the oldest in the country, once guarded the passage to central India and has a rich history of legends, battles, conquests, victory and defeat.
After passing through the main entrance where our documents are closely scrutinized, our four wheel drive open-topped jeep heads down its allotted route through ever-changing scenery. Open savannah with low-growing bushes and grass leads to steep escarpments, narrow rocky gorges and massive rock formations. Further into the park, thick forests dominate. Although the tiger is the most sought after prize, there are over 272 species of birds and 29 other species of mammals to see. Peacocks by the hundreds fill the trees and pathways, the males displaying their feathers to attract the hens. They are as common as sparrows are elsewhere, their raucous call punctuating the air. At the edge of a stream, a marsh crocodile, known as a "mugger," suns itself on the bank, waiting for some unsuspecting prey to get too close before pouncing and dragging the animal down to drown. Nilgai antelope wander through the dry grass, periodically stopping to strip leaves off trees with their long, raspy tongues, while sambar deer wade into the lake to cool off, keeping a wary eye open for tigers that might be lurking around the remains of an old hunting lodge on the shore.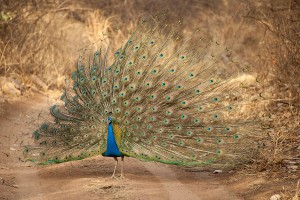 Bouncing in a open-topped jeep over dirt tracks and dried out, boulder-strewn, riverbeds, our guide stops periodically to look for pugmarks in the soft sand or to listen for the alarm calls of the sambar deer and langur monkeys that signal a tiger on the move. At times, we sit for an hour in the withering heat, scanning the dry grass for signs of movement. Searching for tigers is certainly an exercise in patience and endurance! One afternoon a tiger is sighted in a cave. Great excitement ensues! We sit silently in our open-top jeep waiting for the great beast, known as T-6, to awaken from his slumbers. Eventually, he stands, stretches and wanders down out of the cave, no more than 15 feet from where we sit. Without even a glance at his appreciative audience, the tiger strolls up a hill, through a grove of trees to a small water hole. Sniffing the air around him, the almost 600-pound animal walks into the pool and submerges himself up to his neck.  Periodically he looks over at us, watching his every move, cameras clicking away in rapid fire to catch every twitch of a whisker. He looks like a great big kitten, but make no mistake; the snap of a twig will bring the tiger to full attention, surveying the area to see if his next meal is approaching. His bath finished, the tiger shakes off the water and, looking over his shoulder as if to say, "That's it, show time is over," he wanders up the hill and out of sight. Early next morning we find another tiger, T-24, a seven-year-old male, already soaking in a waterhole. He is as nonplussed as his cousin had been the previous day, watching us watching him. Towards mid-morning, he stands, shakes his magnificent orange-striped coat and wanders off across the savannah. We follow as he crosses a rocky outcrop bordering a small stream to his cave where he will spend the hottest hours of the day.
We see tigers only twice on the seven game rides we take over our four days in Ranthambore, a testament to the elusiveness of this iconic animal. However, this spring a bumper crop of cubs were born. For those visiting the park when it reopens in October after the monsoon, the likelihood of seeing a tiger should improve. Nonetheless, the tiger is far from safe. Poaching for tiger skins and tiger parts used for medicinal purposes in the Far East continues to decimate the tiger population. Although conservation efforts and vigorous anti-poaching laws are in effect, the Bengal Tiger is still critically endangered. How sad it would be if this magnificent beast disappeared!
IF YOU GO Ranthambore National Park is open from October to June or If you are interested in luxury tour to Rajasthan . The nearest airport is Jaipur, about 60 miles away; the nearest railway station is Sawai Madhopur Junction, 6 miles from the park. There are several daily trains from Delhi (4 hours away). Although you can arrange your visit to Ranthambore National Park independently ( http://www.trikonjourneys.com ; Tel 1-877-640-4855), it is much easier to know  a local travel company in USA or Canada to organize your trip for you.