The Royal Rajasthan on Wheels Train India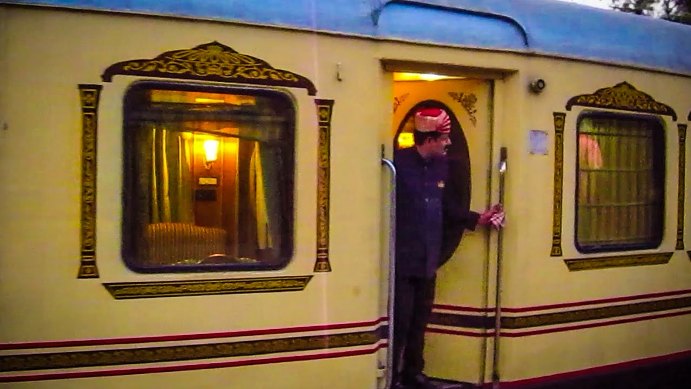 The Royal Rajasthan on Wheels Train India
Indian Railways (IR), the world's eighth largest employer has one of the largest networks in the world and offers various types of passenger services including Indian luxury trains. Different states has launched luxury trains to promote tourism and Rajasthan was first among them to do so. Inspired by the huge success of Palace on Wheels, the tourism department of Rajasthan introduced another luxury tourist train of India, 'The Royal Rajasthan on Wheels' in January 2009. The train is operated and governed by IR.
Ever heard the enchanting sound of Kuuuuuuuuuu and Chuk Chuk! Yes, two words are synonym to IR. With the same attention grabbing sound Royal Rajasthan on Wheels Train welcomes you on a grand journey of imperial destinations of desert state and other cities of India. On train taste the piece of chivalry of Rajasthani history, the grand imperial decorative, leisure settings and luxurious amenities.
Rajasthan on Wheels India Itinerary is the measure taken for familiarizing guests with land of Kingdom. Along with the contemporary royal living on wheels guests would be able to taste the flavor of Royal Rajasthan's regal splendor. The train is designed only to generate treasureble experience for travelers which could be cherished forever. Designers have took special care while designing the every coach of train for crafting luxurious charm that could match upto regality of desert history and contemporary sophistication. The newly built on wheel accommodation is the royal treat that offers delightful interiors, delicious cuisines, branded beverages and personalised service.
Indian state Rajasthan is truly royal in every sense. Wrapped in the great tales of past, the half desert land showcase one of the oldest mountain ranges of the world 'Aravalli Ranges', the vast horizon of Thar desert, historical legacies in form of massive forts, magnificent palace complexes and temples, deep rooted culture of Kaleidoscopic people and rampant biodiversity – no land on this earth is so versatile as this half desert land and luxurious vehicle on wheel takes you through the verdant vistas of such a whimsical state. Luxury vehicle leaves for seven nights and eight days tour of Rajasthan and other Indian cities on every Sunday from Safdarjung railway station of New Delhi and visit the specified places: New Delhi, Jodhpur, Udaipur, Chittorgarh, Sawai Madhopur, Jaipur, Khajuraho, Varanasi and Agra.
Luxurious coaches of Regal Vehicle
Impeccable interior, soul stirring hospitality and world class satiating facilities never give a chance of complain to the guests. The lavishly decorated train has 14 passenger coaches which are further divided into deluxe saloons.
13 coaches of luxury train have 3 deluxe saloons on each – Every saloon incorporates extravagant decor and optimum facilities.
1 coach has 2 Super Deluxe Saloons – These suites named "Emerald" and 'Diamond' are designed for stately living in royal comfort. Finely carved wooden furniture and silk & velvet bedspreads & draperies decorate the accommodation.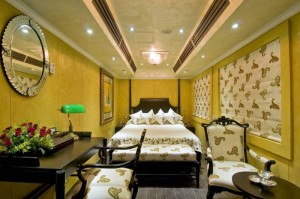 Facilities offered in saloon:
Study table
Chair to make your stay comfortable
Every coach of this luxury train has been named after the famous palaces of Rajasthan. The palaces are Chandra Mahal, Moti Mahal, Phool Mahal, Lalgarh Palace, Kishori Mahal, Hawa Mahal, Surya Mahal, Jal Mahal, Kumbha Palace, Sukh Mahal, Padmini Mahal and Jogi Mahal. The Super Deluxe Coach has been named after the grandiose monument Taj Mahal.
Dine & Wine
Royal Rajasthan on Wheels India incorporates two restro-bars:
Swarn Mahal – Designed using the bold patterns of brass and gold.
Sheesh Mahal – Embellished with stunning crystal pelmets and gorgeous floor lamps.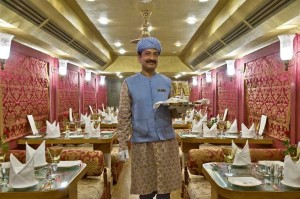 Both the restaurants serve Rajasthani, Indian, Continental and Chinese cuisines and also offer the liquor of several brands.
Facilities on Board
Souvenir coach of the luxury train offers different handmade products such as bear mug, cruet set, leather photo frame, embossed leather jewelry product and others. Another addition in train is royal spa for rejuvenation of mind and body. Royal Rajasthan on Wheels Packages include numbers of facilities require for the imperial stay of guests.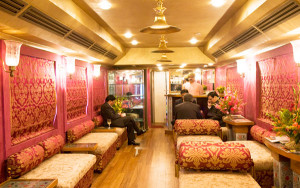 Train Tariffs
Booking price of Rajasthan on wheels include accommodation, catering, fee of monuments and cultural programmes. The catering is comprised of morning tea, breakfast, lunch, evening tea, and dinner. Laundry, liquor, video camera and others items of personal usage will fetch extra cost. However, Indian citizens too have to pay Royal Rajasthan on Wheels Booking charge in US dollars.
Royal Luxury Train Schedule
The sojourn journey of Royal Rajasthan on Wheels Schedule to leave on every Sunday from Safdarjung Railway Station at New Delhi and returns to the same location on next Sunday after covering entire destinations.
Destinations Covered By Train
New Delhi – The national capital New Delhi is the commencing and ending point of Rajasthan on Wheel. Being referred as microcosm of India, New Delhi is the center of Indian politics, commerce, trade, educational institutions and hosts number of tourist places especially the Mughal and colonial heritage sites such as Red fort, Qutub Minar, Lodi garden, India Gate, Rashtrapati Bhavan etc.
Jodhpur – The gateway of Thar Desert is well knows as Sun City of India for being receiving maximum sunlight throughout the year. Built by Rao Jodha during the 14th century as new capital of Marwar, most of the houses in Jodhpur are colored blue. Brahmpuri located on the north side of town is resided by Brahmin family. City is famous for fort, palaces, temples, handicrafts, spices and fabrics.
Udaipur – Luxury train Royal Rajasthan on Wheels takes you to the sojourn journey of India's most romantic city Udaipur. And in the heart of the Udaipur lies spectacular Lake Pichola around which numerous magnificent heritage hotels are located. Home to several manmade and natural lakes, this stunning 'Venice of East' gracefully sits in the elevated platform of Aravali ranges.
Chittorgarh – Chittorgarh is famous for the Asia's largest fort, the Chittorgarh Fort, which was attacked thrice in the past. It's the place where Rani Padmini committed jauhar. Located on the banks of Berach River fort houses several attractions like Victory Tower, Kirti Stambha, Rana Kumbha's Palace, Padmini's Palace, Meera Temple, Fateh Prakash Palace, Jain Temples, Bassi Wildlife Sanctuary and so on.
Sawai Madhopur – Chirps of Birds, trumpet of elephants, roar of tiger……Welcome to the land of Ranthanbhore National Park. Sawai Madhopur is famous for its biodiversity land, the national park. Perch 11 Kms away from Sawai Madhopur Ranthambhore national park is the world famous site for tracing majestic animals like tiger, elephants etc. Besides, being a home of freely roaming animals, park also houses Ranthambhore fortress and a lake.
Jaipur – Dominating forts, imposing palaces, shimmering lakes, kaleidoscopic culture and vibrant people – these words could be the wonderful synonyms for the capital city of Rajasthan, Jaipur. Pictured in pink color this cosmopolitan city of desert state is India's most celebrated tourist destination and well known for past legacies.
Khajuraho – Nestled in the Bundelkhand region of Madhya Pradesh Khajuraho is well known for Hindu and Jain temples, especially for erotic rock carvings. The group of temples enshrined here is the UNESCO World Heritage Site. With picturesque Vindhya Range of mountains as backdrop, Khajuraho's art revel the Indian philosophical aesthetics.
Varanasi – Varanasi is one of the oldest city in the world's which is continuously inhabited by human populace. This historical city is the most scared land for Hindu and Jain. Located on the banks of Holy River Ganga scared region houses century old temples and other historic monuments. Earlier known as Banaras and Kashi, Varanasi is one of the places where the Hindu religion flourished initially.
Agra – Taj Mahal is synonym to Agra, This small city is made famous by three World Heritage Sites: the imperial Taj Mahal, dominating Agra Fort and once abandoned city Fatehpur Sikri, all were constructed by Mughal emperors. However, much before the building of Mughal architectural testimonies Agra was founded by Raja Badal Singh and at present it is the fastest developing city of India bestowed with contemporary amenities.