Rajasthan, India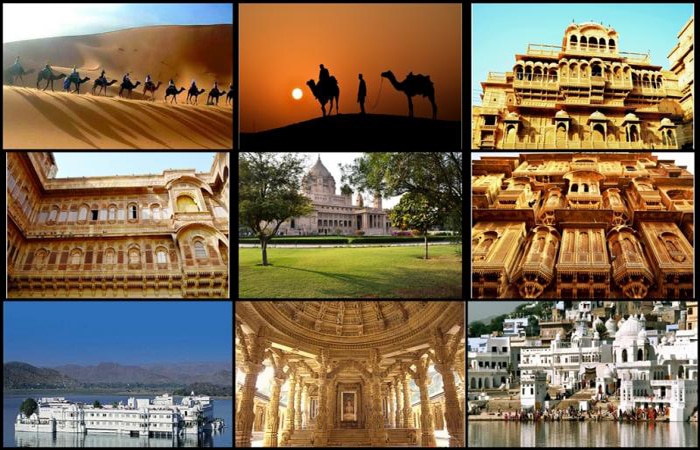 Rajasthan Tourism
Areawise Rajasthan is the largest state of Indian state and encompasses the most part of unfriendly "The Great Indian Thar Desert". It shares national border with multiple states including Gujrat, Madhya Pradesh, Uttar Pradesh, Haryana and Punjab and international border with Pakistan in western part. Jaipur, the capital city of Rajasthan is also the largest city. The ancient history of Rajasthan can be traced back to Indus Valley Civilization, one of the world's oldest civilizations whose ruins can be witnessed at Kalibanga, it lies near the area where Ghaggar River terminates.
Rajasthan is spread over 342,269 Kms2 areas and covers approximately 10.4% of India.
Rajasthan is home to one of the world's oldest civilization, The Indus Valley Civilization. A small town Kalibangh in Hanumangarh District gives the deep insight into the civilization. The Vedic Civilization state Matsya is roughly related to Jaipur (a former state of Rajasthan), Alwar and Bharatpur. Since the beginning of medieval history various territories of Rajasthan was ruled by different dynasties such as Gurjars, Charans, Jats, Bhils, Rajputs, Yadavs, Meenas, Bishnois. All these dynasties and other tribes made significant contribution the gracing the Rajasthan with vibrant history and majestic architecture. The medieval and colonial history of Rajasthan can be described as romantic and imperial as well as soaked in the blood of brave worriers. While protecting culture and land all the dynasties suffered greatly.
While fighting with invaders at Bhinmal and Ajmer a number of Gurjars exterminated. Meenas once ruled Bundi and Dhundhar region and Bhils were the rulers of Kota. The former independent state, Rajasthan had successively developed rich architectural and cultural heritage in form of palaces and forts with the blend of Indian, Mughal and Jain architectures.
Geography & Culture of Rajasthan
The great Indian Thar Desert and Aravalli Range are the two most prominent geographical features of Rajasthan. It lies in 23°30′ and 30° 11′ North latitude and 69° 29′ and 78° 17′ East longitude. The major part of state is covered by parched and dry region. Topographic features of state include rocky terrain, wetlands, barren tracts, land of thorny scrubs, sand dunes, river-drained plains, plateaus, wooded regions and ravines.
The official language of Rajasthan is Hindi and majority of people follow Hindu religion. Culturally rich Rajasthan still exhibit the ancient Indian way of life. The artistically rich folk – culture from ethnic places reflect the highly cultivated artistry skills, dance, and music in distinct style.
Kathputli, Bhopa, Tejaji, Kachchhighori, folk music, song etc. are the major part of Rajasthan. Ghoomer dance of Udaipur and Kalbeliya dance of Jaisalemar has gained the international fame. In art and craft section Rajasthan is known for colorful wall paintings. Block prints, tie and dye prints, zari embroidery, Sanganer prints, handicraft items, carpets and blue pottery are found in reasonable price. Rajasthan, the most colorful state of India observes various festivals. A few of them are Deepawali, Holi, Shri Devnarayan Jayanti, Gangaur, Janmashtami, Makar Sankranti and Teej.
Tourist Attraction and Places To Visit In Rajasthan
Rajasthan is endowed with diverse landscape with great natural beauty. Its scenic locations, history and traditions are contributing a lot in growth of tourist sector which is indeed flourishing. Some of the most sought after destinations are Palaces of Jaipur, holy town Pushkar, lake city Udaipur, Jodhpur's Desert Forts, Taragarh Fort in Bundi, Jaisalmer and Bikaner. Many forts and palaces have been converted into heritage hotel.
Dilwara Temples of Mount Abu, Ranakpur Temple, miniature paintings of Bundi, decorated havelis and Ajmer Dargah Sharif show the existence of distinct architectural styles of different religions and believes in one vibrant state, Rajasthan.