Haryana, India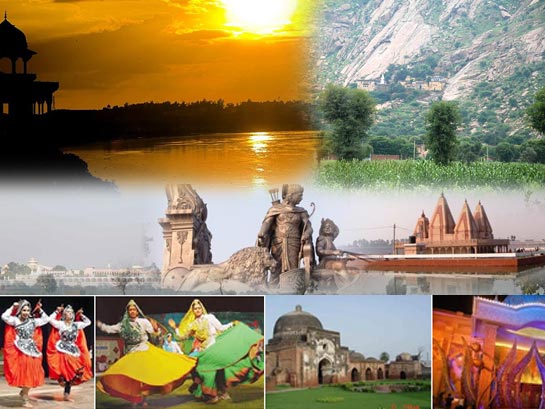 Haryana adorns the adventurous beauty of the nation.
Haryana is a state situated in North India. Chandigarh is the capital of Haryana. Punjab and Himachal Pradesh in the north, Delhi in the northern, western and southern borders, Uttrakhand and Uttar Pradesh in the east and Rajasthan in the south mark the geographical periphery of Haryana. An ample portion of Haryana comes under the purview of National Capital Region. The respective native languages are Haryanavi, Punjabi and English. Haryana owes its sites from the Indus valley and Vedic Civilizations.
Things to do In Haryana
The activities in Haryana are essentially open-air.These are as follows:-
Angling: The fishing spots are waterfront at Tejawala and Hathni Kund at the Kalesar Forest Reserve, Badkhal Lake, Damdama Lake, and Suraj Kund Lake. The game fishes are Mahseer, Trout, Singhara, Khagga, Rohu, Kalban and Goonch,
Trekking: you can enjoy adventurous trekking in dense forest, isolated tracks, to the banks of the river Ghaggar. The main trekking route is near and around Aravalli Hills and Kaleswar forest Reserve.
Boating: You can take pleasure of boating in Damdama Lake on the Gurgaon- Alwar road. The lake has provision for both boating to kids and adults. The variables in boating are paddle boats and row boats.
Golfing: The suitable golfing sites caters to the Aravalli golf courses in Faridabad and the highway golf course in Karnal. Both have 9-hole golf courses with well equipped ground. But it is a bit costly.
Hang Gliding: the best spot for this is Sohna. It is a very energetic and passionate activity. The suitable time is the summer from June to August.
Rafting: It is one of the most adventurous activities of this state. Rafting expeditions occur in Hatni Kund- a forest reserve situated in Kaleswar and of the River Yamuna.
Places to visit in Haryana
Chandigarh  The popular places of tourism in Chandigarh are Leisure valley, Rock Garden, Capitol Complex, Open hand Monument and Sukhna Lake. It just takes 4 hours 9 minutes to reach Chandigarh from Delhi by road. The distance between the two places is 258.1 kilometers.
Faridabad This city is located 285 kilometers from Chandigarh and it takes 4.35 hours to travel from Chandigarh. The city is located in the southeastern part of Haryana. The popular places in Faridabad are Hatin, Shirdi Sai Baba Temple, Badkhal Lake, Surajkund Tourist Complex, Aravali Golf Course, Raja Nahar Singh Palace, Baba Farid's Tomb, Dhauj lake and Nahar Singh Cricket Stadium.
Gurgaon: This is the industrialized booming city of Haryana. This is 268 kilometers from Chandigarh. The places worth tourism of this place is Sohna Lake, Sultanpur Sanctuary, Sheesh Mahal, Pataudi Palace, Farooq Nagar Fort and Damdama Lake.
Panipath:  This is the historical place since the Battle of Panipath. Important tourist places are Salar Gunj Gate, Kala Amb and so on.
Karnal: One of metropolitan city in Haryana, situated on NH 1 Highway, It's has lots of attractions within the city area like – Atal Park, Karnal Lake, Church Tower, Gurudwara Manji Sahib, Chhachhrauli Fort, Kalander Shah's Tomb, Alamgir Miran Sahib's Tomb.
Kurukshetra: Kurushetra is one of oldest and historical places in India, Kurushetra attracks maximum number of tourist in Haryana as it is known as heritage city and linked with hindu epic Mahabharata. Kurushetra has most of pilgrimages and tourist attractions compared to other cities of Haryana.